7 Month Part-time Certificate Program - Blended Format (online and in-class*)
Are you passionate about working with and caring for animals? As an Animal Care Aide, you can be part of a dynamic team of animal care professionals. This part-time, non-credit certificate program provides you with the knowledge and basic skills needed for much in-demand entry-level employment in animal care facilities through theory courses, field trips and hands-on work experience. Whether you are someone with no previous formal training, or an existing staff or volunteer wishing to upgrade your skills and get a recognized credential, this program can provide you with what is needed to work as an Animal Care Aide.
*Note this program has previously been taught with in-person classes having an online option. As of Fall 2023 this option will no longer be available. Some classes will be taught fully online and some will be taught on-campus with mandatory on-campus attendance.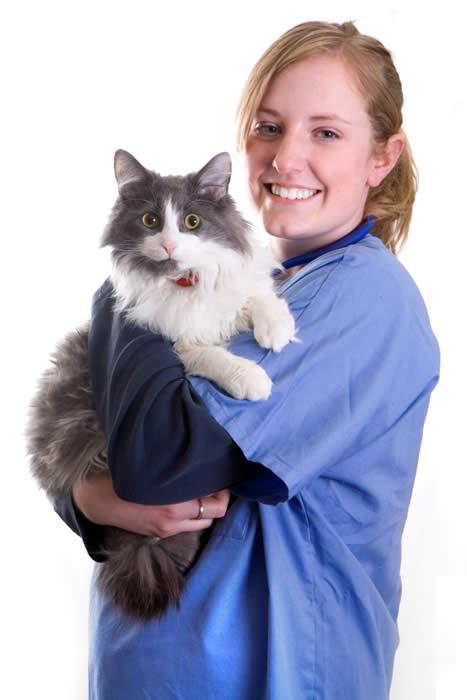 Career Opportunities
The program is designed to meet the demands for trained personnel in veterinary hospitals and animal care shelters. The program emphasizes small animal care in hospital/clinical settings, with valuable training that is transferable to other animal care settings. Graduates may also find work and/or volunteer opportunities in settings such as: animal recovery centres, pet stores, zoos, game farms, grooming businesses, kennels, and large animal farms.
Program Content
The program consists of the following non-credit courses:
Anatomy and Physiology of Animals
Radiology
Laboratory Procedures
Complementary Medicine
Communicating on the Job
Medical Nursing
Surgical Procedures
Office Procedures
2 Field Trips 
20 hours of Work Experience
Course Delivery
The program is delivered on a part-time basis, over a 7 month period, or two semesters. 
Classes will be held in a blended format, with some classes held online, and some classes face-to-face at the Nanaimo Campus for hands-on learning. Note that there is no online option for classes held at the Nanaimo Campus, so students are expected to attend these classes in person. Classes are presented on Saturdays, with the possibility of occasional evening classes. There will also be two field trips at animal recovery centres in the mid-Island region which may occur on a Saturday or Sunday. The end of the program has students gaining 20 hours of valuable work experience at local veterinary hospitals or clinics. Schedules for the work experience may vary.
All students must have access to a desktop or laptop computer with a working camera, audio and strong internet service in order to complete this program.
Admission Requirements
Grade 12 graduation or equivalent, or Trades and Applied Technology Mature Student Category 
Minimum 17 years of age
Minimum "C" in English 11, or equivalent
Minimum "C" in Math 11 (Principals, Applications, Foundations, or Pre-Calculus)
Recommended: Biology 11
If you do not meet the Math or English admission requirement, please contact Student Assessment and Exam Invigilation Services, located at Nanaimo, Cowichan and Powell River, to arrange your assessments.  
Important Program Dates*
Description
Date*
Admissions Open / Applications Accepted
October 1, 2023
Information Session


April 10, 2024   6:30 - 8:30pm   Join via Zoom

You may also contact us at PDT.HHS@viu.ca with any specific questions, and we will be happy to respond. 

Application Deadline**
April 30, 2024
Document Deadline
May 15, 2024
Registration Deadline & Non-refundable $200 Tuition Deposit Due
Within 3 weeks of offer of admission
Balance of Tuition Due
August 12 , 2024
Last Day to Withdraw (no refunds will be issued after this date)
August 12, 2024
Program Start
September 7, 2024
Program End
March 22, 2025
* Dates are subject to change
**If pre-requisites/admission requirements are in-progress, conditional acceptance may be granted as long as courses/assessments are completed before program start.
Program Fees
Tuition and Fees are subject to final approval
Tuition: $2,876 (approx.)
Application Fee:  $45 (approx.)
Student Activity and Student Union Fees: $300 (approx.)
Textbooks: $200 (approx.)
Graduation Requirements
Students must successfully complete all core courses, field trips and 20 hours of work experience in order to be eligible for the Program Certificate.
Students are required to attend all scheduled lectures, observations, field trips, and exams. If you do not meet the attendance requirements, you may not qualify for the Program Certificate.
Program Contact
Yan Li, Program Assistant
Professional Development and Training
Faculty of Health Sciences and Human Services
Email: PDT.HHS@viu.ca 
How to Apply
Apply Online or use a paper application for admission. An application fee is required.