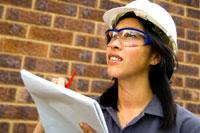 Full-time Certificate Program
This program is designed to provide participants with specific skills for successful employment as a Building Inspector. Participants will gain theoretical and hands on knowledge required for inspection work with Canada Mortgage & Housing Corporation (CMHC), Indian & Northern Affairs Canada (INAC), and First Nations organizations to inspect new house construction and renovations on BC reserves. The program will include participating in field inspections and demonstrating skills learned in the class. 
Career Opportunities
The development of this unique training program has been an initiative of Canada Housing and Mortgage Corporation in partnership with Vancouver Island University, Cowichan Campus. Graduates from this program will meet the requirements of CMHC Native Inspections Service Initiative (NISI), inspecting new construction and renovations on reserves throughout BC and meets the certification requirements of the First Nations National Building Officers Association for a level 1 First Nation Building Officer (FNBO).
This program should provide a solid foundation for future education if the participant wants to continue in the inspection field.
Program Content
Basic building inspection practices
Reviewing plans
Conducting site inspections
Excavation inspections
Conducting pre-backfill inspections
Conducting pre-drywall inspections
Conducting final inspections
Communicating and reporting on inspections
Occupational First Aid
Residential Rehabilitation Training
Start Date
Waitlist is being taken at this time. 
Admission Requirements
An Application For Admission is required.
Start Date and Application Deadlines
Program Start Date
Accepting Applications
Campus
Options
Ongoing
Ongoing

Cowichan

Waitlist being taken. Please contact Cowichan Campus at 250-746-3546.

Accepting International Applications

No

Comments

For more program information, please contact Professional Development and Training at the Cowichan Campus at 250-746-3546.