Committed to Aboriginal Learners...
Building on a strong, province-wide reputation, we design, develop, and deliver a wide variety of off-site educational and community services in partnership with First Nations. Vancouver Island University has campuses located in Duncan, on the traditional territories of Quw'utsun' Tribe; in Nanaimo, territorial home of the Snuneymuxw; and in Powell River, territorial home of the Sliammon people.
Anticipate...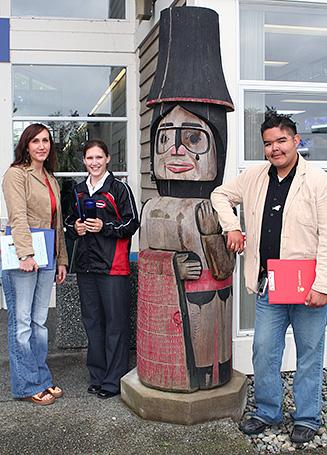 A strong commitment to Aboriginal education, embracing culture and tradition;
A welcoming and encouraging atmosphere, where we value Aboriginal ways of knowing and being;
A Student Affairs team that includes Elders-In-Residence who support Aboriginal learners;
An easily accessible, friendly and supportive environment.
Imagine...
A place that provides a necessary starting point for Aboriginal learners, at any level;
A place where Aboriginal student success is our priority;
A place where Aboriginal students represent a significant part of the total student population;
A Gathering Place, built for VIU's Aboriginal students and community partners, and influenced by the traditional Coast Salish pre-European contact structures;
A place where Chief Shawn Atleo, our Chancellor and National Chief to the Assembly of First Nations, focuses his efforts on the empowerment of the people and their communities towards self-determination and building hope for the future.
Achieve your community goals!
Contact us to discover how we can help.
Nancy Hamilton
Phone: 250.746.3573
Email: Nancy.Hamilton@viu.ca