VIU Student Spa Clinic is a teaching school located in Parksville and is part of Vancouver Island University. All services are performed by students in training under the supervision of certified licensed Esthetics and Nail Technology Instructors. VIU Salon uses professional products only.
VIU employees, friends and family and the general public are always welcome to drop by the salon during business hours to book an appointment for services. Gift Certificates are available.
Please note there is a 24 hour cancellation policy. We recommend that you arrive 15 minutes before the start of your scheduled appointment. If you are late for an appointment, we may be unable to perform the services.
Support student success by booking an appointment with VIU Salon.
Please call 250.248.6419 to find out the hours of operation.
Treat yourself to these popular services at affordable pricing: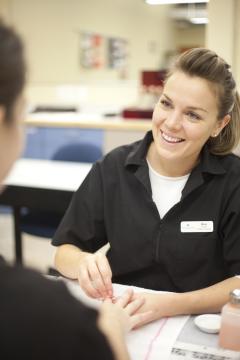 Manicures
Pedicures
Waxing
Eyebrow Shaping
Tinting for your lash and brow
Facials
Back Treatment
Massage
Make-up Application
Salt Glow Treatments
Please call 250.248.6419 to book your appointment in our Parksville Salon!
As always, we very much appreciate your support to our students. 
VIU Salon
Esthetics and Nail Services
Parksville-Qualicum Centre
100 Jensen Avenue East
Room 260/261
Parksville, BC V9P 2G3