22 Week Full-Time Certificate Program
Program Length: 22 weeks
Credential: Certificate
Location: Online theory. Practicums held in Victoria and Nanaimo.
Play a critical role in health care and work as a member of a surgical team in a fast-paced environment. This non-credit program will provide you with the knowledge and appropriate training in response to the increasing demand for trained Medical Device Reprocessing Technicians in BC. You will gain theory and application of principles related to decontamination, sterilization, storage and distribution of equipment in a medical device reprocessing area. As a graduate, you will be prepared to work in a variety of settings from acute care hospitals to veterinary clinics. 
The Medical Device Reprocessing Technician Certificate Program prepares graduates for a number of different job titles, including:
       Central Processing Assistant
       Central Supply Department Technician
       Medical Device Reprocessing Technician
See this short video from Island Health on what it is like to work as a Medical Device Reprocessing Technician.
Program Content
Medical Device Reprocessing Technician: Theory (140 hours)
Gain theoretical knowledge required to work as entry-level Medical Device Reprocessing Technicians (MDRTs).  This course is taught online.
Medical Device Reprocessing Technician: Clinical Skills Basics (56 hours)
Practice valuable clinical skills in a classroom setting at hospitals in Nanaimo and Victoria.
Medical Device Reprocessing Technician: Clinical/Practicum (344 hours)
Integrate your knowledge and skills in a real MDR setting at an Island Health hospital in Nanaimo and Victoria.  
Course Delivery
This program is offered on a full-time basis over 22 weeks.  The theory course is delivered online, and the clinical skills and practicum components are held in hospital sites in Nanaimo and Victoria. Students from the Victoria region are encouraged to apply. All students must have access to a desktop or laptop computer with a working camera, audio and Internet service in order to complete this program.
Practicum placements are hosted at Victoria General Hospital, Royal Jubilee Hospital in Victoria and the Nanaimo Regional General Hospital.  Students are responsible for securing accommodation and transportation to support their practicum experience.
Flexibility is required, particularly during the clinical/practicum as shifts can be scheduled from 0700 to 1900. 
Admission Requirements
The following requirements must be met for entry to the program:
Grade 12 graduation, or acceptable equivalent.
Grade 12 English with a grade of "C" or better, or acceptable equivalent.
If you do not meet the English prerequisite, please contact Student Assessment and Exam Invigilation Services, located at Nanaimo, Cowichan and Powell River, to arrange your assessment.
Successful completion of Medical Terminology and Anatomy & Physiology (OSME 002), or equivalent course, within 2 years prior to MDRT program start date. (Note that if you have taken a Medical Terminology and Anatomy & Physiology course more than 2 years ago, you can take an assessment. Please see https://services.viu.ca/assessments/medical-terminology for more information. Proof of successful completion of the assessment will be considered equivalent to OSME 002).
Successful completion of Interpersonal and Employment Skills for Health Care Workers (HHIP 001), or equivalent course, within 2 years prior to MDRT program start date.

Notes on Admission

Indigenous students can apply for reserved seats by submitting the Access Initiative for Indigenous Students Form.
Other program requirements
Proof of successful completion of the following is required in order to participate in the practicum. Once you have been accepted to the program, it is strongly recommended that you have these required documents completed before the program start date. Please email this documentation to pdt.hhs@viu.ca on the first day of class. It is the responsibility of students to ensure that they have the correct credentials and meet all of these requirements prior to the deadlines outlined in their offer letters. 

Criminal Record Check

Fieldwork and/or practica will require a satisfactory criminal record check prior to placement. Criminal Record Checks are requested through VIU. Further information on obtaining your CRC through VIU will only be sent if you are accepted to the program, and will be sent with your acceptance letter from the Registrar's Office. Criminal Record Checks are processed through the Ministry according to the Criminal Records Review Act. A check completed through the RCMP is not sufficient to meet the requirements of the Act.

Immunization Requirements Form with a recent TB skin test report within 12 months of entering the program are required. (If the TB skin test is positive, a negative chest x-ray is required.) Please note that some immunizations are given in a series and may take several months to complete.
Students should also have the following:
Absence of health problems that may affect ability to lift, stand for long periods, or perform repetitive movements
Absence of allergies to substances on the skin
Familiarity with computers and access to the Internet to participate in the online learning
Important Dates *
Description
Date
Admissions Open / Applications Accepted
October 1, 2022
Information Session

March 9, 2023   6:30 - 8:30 pm   Join via Zoom

Please contact us at pdt.hhs@viu.ca with any specific questions, and we will be happy to respond. 

Application Deadline**

Document Deadline

Extended to August 15, 2023

August 30, 2023

Registration Deadline & Non-refundable $200 Tuition Deposit Due 
Within 3 weeks of admission offer
Balance of Tuition Due
September 4, 2023
Last day to withdraw (no refunds will be issued after this date)
September 4, 2023
Program Start
October 3, 2023
Program End
March 22, 2024
* Dates are subject to change
** All applications must be submitted and complete with all required documentation. Note that the April 30th application deadline has been extended August 15th and we are continuing to accept applications.
Program Fees
Tuition and Fees subject to final approval
Tuition: $9,791.99
Application Fee:  $44.27
Student Union: $106.08 (approx.)
Criminal Record Check Fee: $45.55
Textbooks: There are no textbooks for this program
This program is full time therefore it is eligible for student loans!
Graduation Requirements
A minimum of 75% is required in MDRT 001 and MDRT 002 in order to participate in MDRT 003. 
To be eligible for the Certificate of Program Completion, the student must successfully complete all courses.  A minimum of 75% is required to pass each course.
Students are required to attend all scheduled classes, labs, and practicum experiences.  Students who do not meet the attendance requirement may not qualify to receive the Program Certificate.
How to Apply
Apply Online or use a paper application for admission.  An application fee is required
Contact Information
Yan Li, Program Assistant
Professional Development and Training
Faculty of Health Sciences and Human Services
Email: pdt.hhs@viu.ca 
Useful Links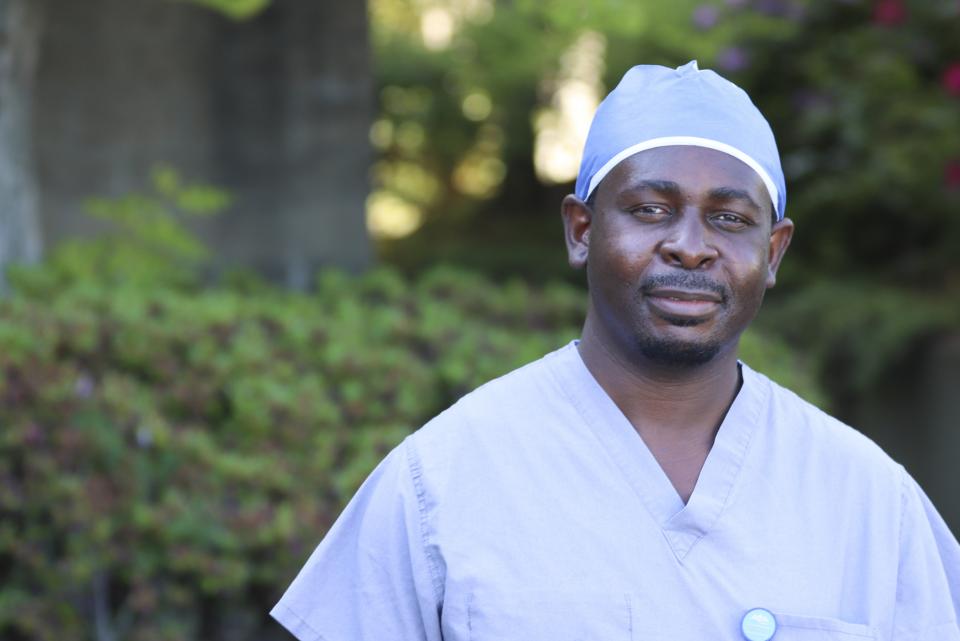 "The program has helped build and shape my character, flexibility, perseverance and resilience."
Charlton Mapayi
Medical Device Reprocessing Technician program graduate